Clients





How far into the future do your banking development plans go?
We have been building the future of the banking sector for years. It is thanks to our services, among others, that the Polish banking market is the leader of digital maturity in the internet and mobile channels.*
* Deloitte Report "CE Banking Outlook Winning in the Digital Arms Race", 2016.

It is now the time for your bank. By combining your market advantages, our experience and customizable products, together we will put your bank on the path of digital sales transformation.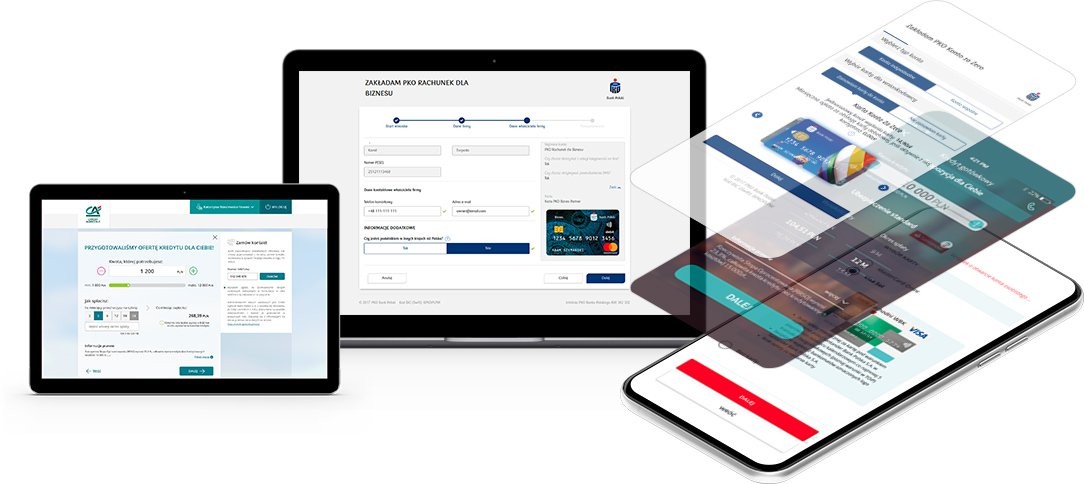 e-banking
Customers appreciate our corporate banking above all for its broad functionality. What is equally important for us is what is not visible: security, modern technologies and dependable integration with the bank backend.
Learn more
Retail, SME & Corporate banking
Selling banking products
Create application forms that will visually and functionally impress your future clients. Show how easy the onboarding process can be. Increase bank revenues with online and mobile up-selling and cross-selling.
Learn more
Retail, SME & Corporate banking
After-sales service
Your customers will save time by being able to handle more than 200 banking cases online on their own. Launch our self-service platform integrated with your banking and have a real impact on the level of service satisfaction.
Communication with the bank
Video, voice & screen-sharing
The popularity of "live" contact has surpassed all other forms of contact with the bank a long time ago. Evolve your communication in banking by introducing innovations such as screen sharing and video & audio conferencing through a web browser.
Digital OnBoarding
Impress your
future customers
Use our experience to increase your bank's revenues! Fill in this form and we will contact you shortly.
Discover our customers' success stories
that will inspire you to go further.
Start cooperation!
Our main goal is to increase your revenues. We achieve this goal by implementing omnichannel internet and mobile banking solutions for our clients for retail, corporate and SME banking.